I'm not sure what the term "Tried using other devices" means or how it relates to your problem. You need to provide some additional details like:
1: Did this device come pre-installed in your computer at the time of purchase or did you purchase it separately then add it to the computer?
2: I wasn't aware that Broadcom made pci/isa network cards since they are only a chipset maker. Did you really mean pci/isa or could it actually be integrated on the motherboard or possibly a laptop pci mini-card?
3: Used in a desktop or laptop computer?
4: Computer/motherboard brand and model?
5: Did it come from the factory with Windows XP installed?
Broadcom BCM4318E Photo: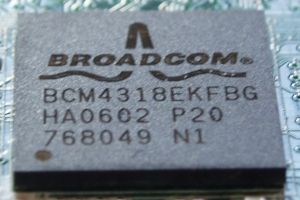 If your pci/ven numbers equal any of the numbers below, this driver might work for you:
[url]http://members.driverguide.com/driver/detail.php?driverid=890405[/url]
OR
Code:
http://hotfile.com/dl/108176159/a28e851/BCM94318E.rar.html
PCI\VEN_14E4&DEV_4303, PCI\VEN_14E4&DEV_4320, PCI\VEN_14E4&DEV_4318
PCI\VEN_14E4&DEV_4311, PCI\VEN_14E4&DEV_4321, PCI\VEN_14E4&DEV_431A,
PCI\VEN_14E4&DEV_4324, PCI\VEN_14E4&DEV_4319, PCI\VEN_14E4&DEV_4312,
PCI\VEN_14E4&DEV_4310, PCI\VEN_14E4&DEV_4313, PCI\VEN_14E4&DEV_4328,
PCI\VEN_14E4&DEV_4329, PCI\VEN_14E4&DEV_432A